Welcome to our Get More Local Business Leads Series
Our Focus is on Google My Business
Google Loves Google!
They will do everything they can to keep you on Google. That way they may collect some ad revenue.

Once you understand this you begin to appreciate the importance of anything Google. Like YouTube and Google My Business to name a few Google properties.

So Why Does This Matter?
Google accounts for over 90% of all search engine traffic! So in reality get it right with Google and you will get a lot of phone calls and website traffic.

What is the Google My Business Three Pack?
These are the THREE FREE business listings just under the Google Map. These GMB listings will always appear above any website listing!
These three listing get over 65% of ALL phone calls from any Google Search.

What is the objective of this free course?
Many businesses do not realise that their GMB listing is available to be claimed. Google has created millions of listing automatically and is just waiting for you to claim it!

Our aim is to give you some insights into how online search has changed and help you to claim and optimise your GMB listing to get more phone calls and enquiries.

Want to get your business in the Google My Business Three Pack?
Just watch the videos and download your free Google My Business Guide. Watching the videos and using the Google My Business Guide will put you a head of 90% of your competition.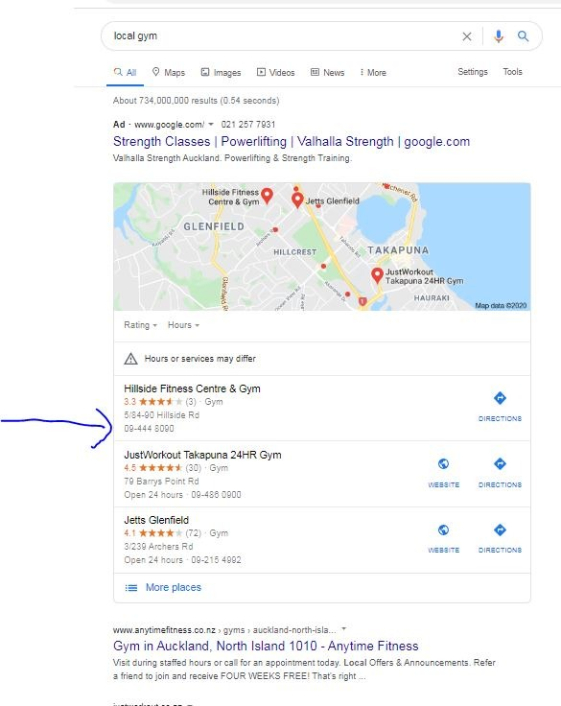 Who am I and why should you care?
My name is Mike and I run a local marketing agency here in Auckland
Thanks to Findus NZ, I am pleased to share information I have gained since 1996 as an online marketer. This has helped myself and my clients sell millions of dollars of products and services online.

You may be wondering why you should listen to me?

Well I started before Google even existed (as did a number of my colleagues). So we have seen a lot of things come and go, but the thing that has stayed constant over the last two decades is the power of Google to help drive phone calls and web traffic for local business. Over the years I have personally invested hundreds of thousands of dollars in marketing my businesses online. As a marketing group my colleagues and I have run thousands of campaigns across a wide range of businesses and have invested millions in ad spend. So we have some idea what works and what doesn't.

One thing my colleagues and I all agree on is that Google My Business is the most under-rated free marketing tool online today. Not only does it appear above the fold in any search, your GMB listing has the potential to appear on page 1 above all other website listings. The THREE PACK as it is called drives phone calls and leads. In fact around 65% of all search traffic will go here.

Just to let you know that I do not work with many clients. I am privileged to work with the folks at Findus NZ and thanks to them, be able to share with you some tips and strategies gained over the last 20+ years. This information is very valuable and usually I only share this stuff with the few clients I work with.

Over this series I will do my best to share with you EVERYTHING I can to help you get more phone calls and traffic from your online marketing efforts.

The NDA's I have signed and the fact that I do not want to be inundated with calls requesting help, are some of the main reasons I prefer to remain anonymous. I hope that is OK. That way I can spill the beans and tell you a few things that some of my colleagues may not want me to share!

Right now every business owner though-out the globe is having a tough time. This information is one way I can help you out.

So get your business prepared for the next phase, when businesses are starting to open again.

All the best
Mike

Step by step instructions on how to claim and optimise your GMB listing to get more calls and enquiries. Click here.

Find out what Google wants! Mike shares some more insights and strategies. Click here.
Watch our Google My Business training video series below.
This video course comprises 15 videos and is designed to help you claim and optimise your Google My Business listing. This video series was produced in 2019. More detailed instructions are included in the Google My Business Guide.
Creating and claiming your GMB account
In this video we show you how to claim and start optimising your GMB listing. You can find more detailed instructions in the Google My Business Guide.
Google My Business updates you want to know
Google My Business Updates you want to know every business owner should know. Be aware that some functionality is limited right now due to Covid. You can find our more here.
Bookmark this page and visit next week
We will release three more videos and share some more marketing tips and strategies

Next week ....


How Small Businesses can use GMB for effective marketing
How to create effective Google My Business Posts
Google My Business categories